A standalone alternate history book set in a secondary fantasy world which was inspired by the Byzantine Empire and the lives of Emperor Justinian and Empress Theodora.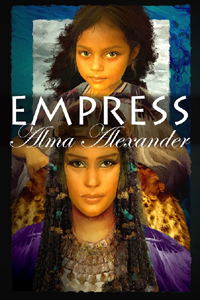 Publication year: 2016
Format: epub ebook
Page count: 464
Publisher: Book View Café
I received this book in exchange for my honest review.
The book has mostly two narrators: Marcus and Simonis. Simonis is born to a poor bear keeper and Marcus's uncle is wealthy. They both live in Visant, the City of Gold but experience it quite differently.
When Simonis is five years old, her father Batzas comes to the great city of Visant with his family because he has gotten a job as assistant bear keeper to one of the leading charioteer groups, the White Jewel. The city is huge and somewhat intimidating to the small family but Batzas is ambitious and willing to work hard and he dreams about bettering his life.
However, within a year Simonis' father is dead and Simonis herself has found out how utterly dependent she and her family are on the benevolence of the rich and powerful. She resents that fiercely. When she catches the eye of a scarred soldier who has a network of spies, dancers and courtesans, Simonis eagerly agrees to work for him. When she's 12, she's already an accomplished dancer and starts her training as a courtesan. She's determined to make a better life for herself in the only way she can.
Marcus is the son of a farmer who can read and, he reads a lot. His mother's brother, Leontes, has risen high in the hierarchy of Visant: he's the leader of the palace guard and now a count. He and his wife have no children so he sends for Marcus with the assumption that he will adopt the boy as his own heir. At age 15, Marcus leaves the life he's always known and goes to Visant. He's well cared for but because of his poorer upbringing, he makes few friends and is often humiliated. However, Leontes keeps his word and adopts him. Marcus takes a new name suitable for a Patrician: Maxentius. He works hard but some of the men in the palace don't like his success.
This city and the surrounding countries are strongly inspired by the Byzantine Empire. In Visant, women don't participate in public life: they're essentially property, owned by a husband or a father. As part of the very lowest class of people, Simonis is actually freer to make her own decisions even if her options are very limited. As a courtesan, she has the chance of getting some wealth even though she can't choose her clients. She's also very loyal to her friends.
There's a mention of a religious schism between the followers of the One God in Visant and in another city, Rhakotis. It appears that the religious orthodoxy practiced in Visant is, at least partly, responsible for women's low position in society. In this world, there are also other cultures and other religions.
Marcus is pretty much on the other end of the spectrum: he becomes embroiled in court intrigue almost against his will. He's also honest which is not a good trait in the court. Emperor Valerian is old and everyone is expecting him to name a successor, but he doesn't have any children. He does have three nephews, generals, and other men willing to take on the imperial diadem.
The book is full of adventure and it's very entertaining. It's split in three parts and the latter half of the book has a couple of other narrators but mostly Simonis and Maxentius. The world-building is deep and the characters are complex. I enjoyed it a lot.