The third Babylon 5 book, set during the middle of the second season, before "Coming of the Shadows". It draws heavily on the first season episode "The Parliament of Dreams".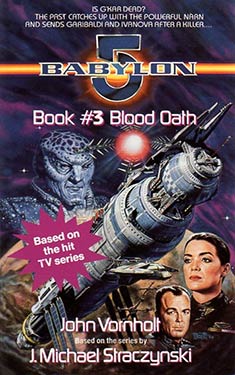 Publication year: 1995
Format: print
Publisher: Boxtree
Page count: 232
G'Kar receives a data message where the daughter of his old enemy Du'Rog swears the blood oath against him. The Shon'Kar is a powerful part of the Narn culture and G'Kar is very much afraid. Shortly, he leaves the station in a one-man craft which explodes before reaching the jump gate. Garibaldi suspects murder and it seems that G'Kar's craft was tampered with. He investigates but before any conclusions can be drawn, Sheridan sends Garibaldi and Ivanova to the Narn Homeworld, to participate in G'Kar's funeral and to tell everything they know about the ambassador's death to the Narn ruling body, the Kha'Ri. Na'Toth will travel with them and also a new character Al Vernon whom Garibaldi meets just before he leaves. Vernon used to live in the Homeworld and offers up himself as a guide to the two humans. Garibaldi accepts but is determined to keep a close eye on him.
Of course, G'Kar isn't dead. He faked his own death in the hopes of resolving things with Du'Rog's family, one way or the other, before he's really killed. He travels to the Homeworld, too.
Most of the book is set in the Homeworld, which was a fascinating place. Temperatures are really cold during the night and really hot during the day, in the same place. This doesn't seem to bother the Narns but does bother the humans a great deal. We're shown the rigid caste system of the Narns; people who don't make it are shunned and live in horrible slums which are practically lawless. The Rangers who are supposed to keep up the law are bullies.
We also meet G'Kar's wife Da'Kal who is apparently a well-connected woman whom G'Kar loves – but whom he just cast aside when he moved to B5. I don't think there was ever a mention of G'Kar being married in the series.
This was another quick read. It was mostly enjoyable but there were pretty significant typos, like Garibaldi's and G'Kar's names exchanging places. Also, I rather liked Da'Kal but G'Kar's abandonment of her made him a really callous character. I also really like Mi'Ra who was Du'Rog's spirited daughter hellbent on getting her revenge on G'Kar. So, interesting alternate version of G'Kar.