The first book in the alternate history Lady Astronaut series.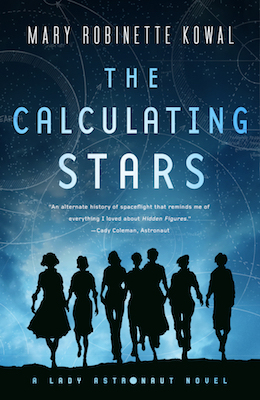 Publication year: 2018
Format: print
Publisher: TOR
Page count: 431 including historical note and bibliography
This is my first Kowal book. I love her work as the narrator of Seanan McGuire's Toby Daye audiobooks. Happily, I clicked with her writing style or Elma's voice.
It's fall 1952 and a huge meteorite strikes us destroying most of the Eastern coast. Elma and her husband Nathaniel are taking a small holiday and they're in the mountains. That's why they're still alive. They manage to escape to the nearest surviving Air Force base because they have a small plane and Elma is a great pilot. Nathaniel is the lead engineer of International Aerospace Coalition and he goes to work – persuading the AF base commander that this was not a Soviet attack. Except for her brother who lives in California, Elma's whole family is dead. She's a pilot but the AF won't give her a chance to rescue refugees. But she must work so she volunteers at the local hospital.
But soon enough, her husband needs her particular skills. Elma has a PhD in Mathematics. But because this is 1952, she works as a computer – one of the very best at calculating anything. She finds out the chilling truth: the meteorite has changed world's climate catastrophically and if humanity is going to survive, it must happen in space.
But only white men are approved to train as astronauts.
Kowal shows the pervasive, casual, and smug sexism against Elma and all the other women who are just casually dismissed all the time. Just as chilling is the casual racism and undervaluing of black people; how the white men don't even see either, until it's pointed out and yet the targets must constantly live with it. Elma doesn't initially realize her own racism but slowly her awareness grows. Sadly, both attitudes still exist, if not so blatantly.
The book is written from Elma's first-person POV. I loved her voice. But she constantly undervalues herself and what she's capable of. Also, she hears her mother's voice telling her to mind "what will others think". She has an anxiety disorder and when she almost accidentally becomes the famous "Lady Astronaut" and people want her to speak in front of large crowds, it's almost impossible for her. But only almost.
She and Nathaniel are happily married and Nathaniel is a wonderful, supportive husband. They both love their work and work long hours but they also find time to support each other. Neither of them talks about starting a family, though. I guess they're too focused on their work, especially knowing that the end of the world is literally approaching.
There was also no talk about what happens to the billions of people who are on Earth. Are the colonies going to take all of them? It seems that just a select few are going to get off Earth and continue the species in colonies. Of course, a lot of people don't believe that the Earth is going become unhabitable.
The changes in the timeline are pretty subtle at first and also the change in climate isn't sudden but gradual. That's why so many powerful white men have difficulty in believing that the change will come. They'd much rather pour money into their own agendas than the space program. However, we don't see much of the world outside IAC except through newspaper clippings at the beginning of each chapter. IAC has international staff but they don't talk much beside work (and sexism).
This isn't an adventure book: Elma isn't kidnapped or fighting for her own survival. Also, this is just the beginning of the road off Earth.
It's the first book in a duology so the ending is wide open.