The third book in the alternate history action/adventure/thriller Roma Nova series.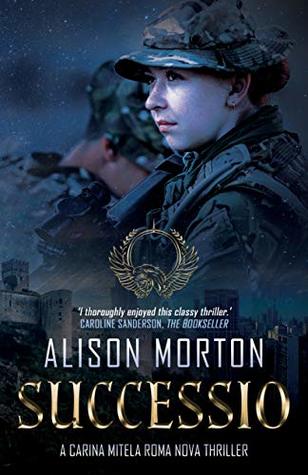 Publication year: 2014
Format: ebooks
Publisher: SilverWood Books
Page count: 297
Set eight years after the end of the second book, Carina Mitela is now a major in the Roma Nova's elite military force, the Praetorian Guard Special Forces (PGSF). She's also the head of her powerful family now that her formerly formidable grandmother Aurelia is suffering from late-stage cancer. Carina's husband Conrad is a legate in the military forces and therefore her commanding officer. They have managed to make it work, though, because they love each other and because they're both committed to serving the state. They have three children.
But when they suddenly find out that Conrad has a daughter he never knew existed, their life is torn apart. The girl, Nicola, is already 25 years old and she's in the British military. When she comes to Roma Nova, she wants everything she can get. Carina strongly suspects that the girl is manipulating Conrad but he won't hear of it. He turns his back to his existing family, refusing any help from his wife. When Carina finds out that Nicola is a drug dealer who almost gets Carina and Conrad's oldest daughter killed, Conrad refuses to hear of it. When Nicola gets the Roman Novan Imperial heir into trouble, Conrad still sides with Nicola, feeling guilty and that he must try to make up for the lost years.
This story is quite a roller coaster, involving the people closest to Carina. Nicola threatens not only Conrad and Carina's relationship but also their children. Conrad siding with Nicola hurts Carina deeply but she does her best to serve the country. Also, Carina's eldest daughter Allegra is 15 and in trouble. The imperial heir, Stella, is also a teenager. She's unsure of what she wants to do in life and is used to being pampered. When she rebels against her mother, it's more serious than an average teenager's rebellion.
Also, Carina's beloved grandmother is dying of cancer and Carina needs to step up as the leader of her extended family. All of this makes the story seem complicated but it's written very well and I had no problem following the different plots. However, I was really very dubious about Conrad's actions (once again) even though we do get an explanation, of sorts.
The series has a lot of secondary characters and we get to see most of them this time, too. Carina's friends in the military play a big role but we get to see the others, as well. Stella and Allegra have their own character arcs, and while the girls could have been very similar, both reared up is rich, privileged families, they are actually quite different. I've enjoyed the cast of characters in the previous books and I enjoyed them a lot this time, too.
This is a great end to Carina's story. There's still a novella about her which I haven't read. While "Successio" can be read as a stand-alone, I think it's best to read "Inceptio" and "Perfiditas" first. The next book in the series "Aurelia" follows Carina's grandmother's story and I'm eager to read it.