A prose novel with Avengers characters and many of their enemies.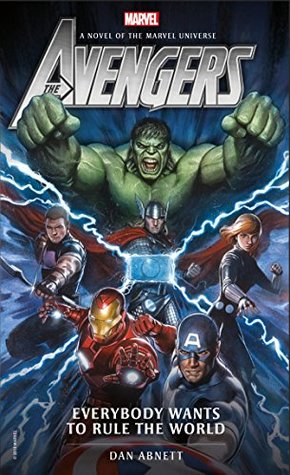 Publication year: 2018
Format: print
Publisher: Titan books
Page count: 348
This is a stand-alone novel. The cover hints that these are the movie Avengers. While the five Avengers from the first movie are indeed the prominent characters, later joined by the Vision and the Scarlet Witch, there are a couple of hints that they're actually the comic book characters. Specifically, Wanda is referred to as a veteran Avenger and her powers aren't the movie powers but the mix of hex and magic she uses in the comics. Also, some of the villains are clearly their comic book versions, not the movie versions.
The writing style assumes that the reader is already familiar with the characters, their backgrounds and powers; they're not introduced at all. Instead, we're plunged straight into action with every character.
Captain America is fighting Baron Wolfgang from Strucker (with his Satan's Claw not seen in the movies) and Hydra in Berlin. He's assisted by S.H.I.E.L.D. agents and resources. At the same time, Hawkeye and Black Widow have just arrived to Savage Land where A.I.M. is doing something big. Our heroes must survive the Savage Land dinosaurs and then infiltrate the A.I.M. base. Meanwhile, Tony Stark is dealing with Ultron's attack in Washington DC. Ultron has managed to jam communications, so the Avengers can't communicate with each other and nobody else can communicate, either. Thor is in Siberia trying to deal with a magical attack and S.H.I.E.L.D has called Bruce Banner into Madripool as an expert scientist rather than as the Hulk.
Each group is on their own because of the communications blackout and dealing with a major threat to the world. However, the villains haven't coordinated their attack with each other so they're somewhat at a disadvantage. Of course, something even more sinister is going on.
The POVs of the book are all from the Avengers so we don't see the enemies POV. Each chapter follows one hero or a group of heroes and is full of action. In that way, it's similar to many comics. However, I think that some chapters are more blood-thirsty than comics, where the heroes go out of their way to avoid killing anyone. Here, Natasha and Clint kill many A.I.M. minions.
The cover claims that each of the Avengers are on his or her own, but only Thor is really on his own, for a while at least. The others are supported by S.H.I.E.L.D. agents
If you know the Avengers and are a fan of the comics, I recommend reading this. However, don't expect anything deeper or any character development. A very entertaining and action-packed book.