The final book in the Broken Earth fantasy (sf) series.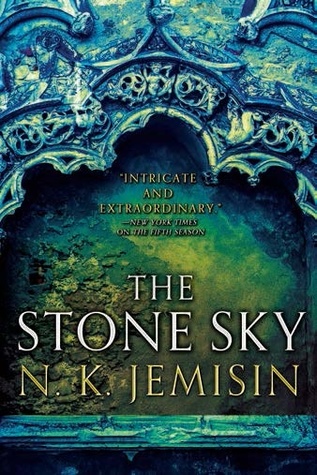 Publication year: 2017
Format: print
Publisher: Orbit
Page count: 398 + two appendixes and an excerpt from Ann Leckie's Providence.
The Broken Earth series is very, very good. It's also very grim and has a cruel world, not just to the adult characters but, and especially, to the children. At times it has been hard for me to read it. The Stone Sky is a very good ending to the series. Parts of it were as I expected (which is good) but it had some surprises as well (equally good). Like the other books in the series, it has three POV's. One of them continues with Essun, another continues with her ten-year-old daughter Nassun, but the third one is new. They're all in present tense. Essun in second person, Nassun in third, and the third POV in first. We finally get to know the answer to many of the questions the series has raised.
Essun has been in a coma for a while and when she wakes up, she finds that her comm is moving. Meanwhile, Nassun and her Guardian father-figure also need to leave from their comm and head to a place call Corepoint. The third POV is in a different timeframe.
The series deals with very weighty issues. Bigotry and racism are the most obvious ones. The "stills" (the normal people) hate and fear the rogga/orogenes who can use magic. The stills do awful things to the orogenes, even to children. Much of the grimness of the book stems from that. Yet, at the same time they need the orogenes to protected them from volcanos and earthquakes. Motherhood and found families are another significant theme.
I think that the series would benefit from reading the books back-to-back. I probably should have read this one quicker but… it's just so damn repressing and grim that I just couldn't. Of course, there's a very good reason for the bleakness and this would a very different series without it. If you can stomach that (and a blend of magic with science fiction), I highly recommend this whole series.