The second book in the five-part Vatta's War science fiction series.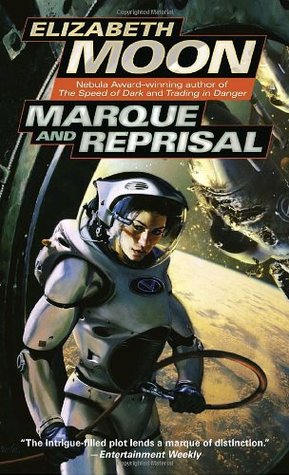 Publication year: 2005
Format: Audio
Running time: 14 hours and 21 minutes
Narrators: Cynthia Holloway
This book starts soon after then first book, "Trading in Danger". After she was drummed out of military academy, Kylara Vatta, Ky, is now the captain of a small and old trade space ship. She survived her first voyage on it, but not without losses. Ky refuses to return to the arms of her family, the wealthy Vatta who have made their fortune through interstellar trade. Instead, she's determined to make it on her own, no matter how boring it's going to be. But then someone tries to rob her ship and she's attacked in public.
Someone has launched an attack against Vatta Transport Ltd. Their home is bombed killing many of the family members, including some very close to Ky. The attacks also sever interstellar communications, the ansibles. Furthermore, the government of Slotter Key is blaming the Vatta family and so shutting down their resources. Many of the other trading companies also feel that Vatta is to blame and refuse to deal with them.
The surviving family sends one of the own to find Ky and to find out who their enemy is. Ten years ago, Stella made a grievous error and was branded as the family black sheep ever since. She's the most unlikely person to investigate anything, so she's sent. However, she's a determined and level-headed woman. She has already learned to work undercover, as a spy of sorts, and now her skills are put to a test. Her former lover Rafe soon joins her. He's a lovable rogue with plenty of talents and secrets of his own.
Ky's familiar cast returns. I enjoyed them more this time around although their attitudes towards Ky don't change. She hires a couple of new men and while I could see what's going to happen with (at least) one of them, it was still a nice ride. I also really enjoyed Ky and Stella's interactions. However, Ky doesn't really have time to mourn her family and the story has very convenient coincidences.
This was a nice continuation to the series and definitely raises the stakes for Ky and the surviving Vatta family. Now, Ky has to work with no safety net which she had in the first book.