A mystery book which has two intertwined timelines. One starts at 1972 and the other 1790.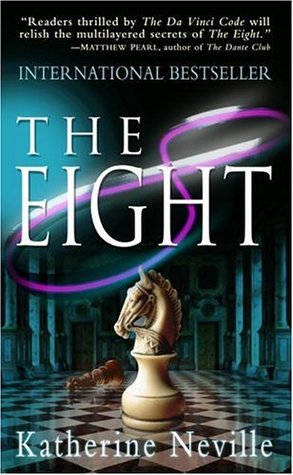 Translator: Seppo Loponen
Publication year: 1988
Publication year of the Finnish translation: 2010
Format: print
Publisher of the Finnish translation: Bazar
Page count: 667
This book has multiple POV characters and two distinct timelines. While it's advertised as a thriller, I think it's too slow to really call it that. The two timelines especially slow it down.
It has one first person POV who is Catherine Velis, a young computer expert who is working for a very influential company. But when she's ordered to do something against her ethics and she refuses, she's put into the company's shit list. She isn't fired but instead is sent to Alger which isn't a welcoming place to a working woman in 1970s. But she has no choice. The book starts in the New Year and her friends want her to hear a prophecy from an old seeress. But the prophecy turns out to be strange and disturbing, a warning of danger. Some months later, Cat is getting ready to move to Alger for a year, but first she goes to a chess game between international masters. Strange things start to happen.
In 1790, two girls are novices in a nunnery where they've lived almost their whole lives. Valentine is an impulsive, passionate girl who finds it hard to stay in the confined life. Her cousin Mireille is a more calm and thoughtful girl. But the French revolution is sweeping across the country, even to the remote nunnery of Mountglane and the abbess is sending her nuns away before the state can confiscate the nunnery's possessions. The nunnery holds a great secret: for hundreds of years the abbesses' have guarded the pieces and board of a magical chess game. Now, the abbess knows that her enemies want the pieces and the only way to safeguard them is to give some of the nuns a piece and send them away.
The abbess chooses Valentine and Mireille as lynchpins who can help the others when needed. So, the cousins are sent to Paris for a distant relative Jacques-Louis David, a famous painter. The girls are introduced to various people and the Parisian lifestyle. However, they don't know whom they should trust. The abbess herself goes to Russia, to see her childhood friend who is now known as Catharine the Great.
The book has a lot of parallel storylines and in the historical section we're introduced to a lot of famous people from the times of the French revolution. I liked that most of all.
Cat is a confident woman and it takes quite a while for her to even start believing in the magical chess board and its powers. The person who tags along to her journey is a rich chess master who is eager to solve the puzzles. She also has a small dog whom Cat doesn't like. Both Cat and her friend are quite impulsive and do a couple of things which could have easily killed them. Mireille is a more thoughtful character but she, too, must make quick decisions because of events. She and Valentine are caught up in people and events in the French revolution and its aftermath.
Unfortunately, I felt that the book was too long. While the historical sections were actually more interesting to me than the present-day parts, I'm not sure if they really added much to the book. The story has some puzzles but not many.
Perhaps I had too high expectations. A blogger said that it was "the book DaVinci Code wants to be". Yet, the only similarity is that there's a historical mystery at the root of both books. It did have elements I quite enjoyed, like the evolving relationship between Cat and her friend, and pretty much all of the historical stuff.