A military thriller set in the near future.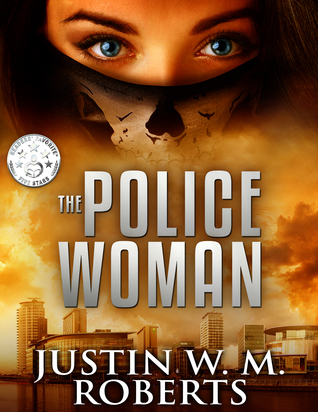 Publication year: 2017
Format: ebook
Publisher: Lulu Publishing Services
Page count: 442 in GoodReads
Sarah Dharmawan is a highly competent police officer in the Indonesia police and also a member of Densus-88, Indonesia's special forces counter-terrorism squad. She comes from a family of military officers.
At the start of the story Sarah is assigned to Britain to help bring down one of the largest drug Cartels in the world. There's evidence that the Cartel has a drug lab in Indonesia even though it's headed by Irish and British people. Sarah joins a group of people who come from all sorts of British and Irish police and military branches. They're all used to working in secret and are highly competent and skilled. But their enemies are equally formidable.
The Cartel is made up of former soldiers, some of them even special forces soldiers. They also have one member who loves torturing men and women. A short time ago, they kidnapped one of the anti-terrorist group members and tortured her to death. They're also not against killing or maiming innocent people to get what they want. Their favorite tactic is to snatch someone and torture them for information (or for fun…). That means that Sarah and her colleagues must be always vigilant and ready to defend themselves at all times.
But life isn't just work for Sarah. Among her new colleagues is a man who both irritates and intrigues her.
The story is set in 2026 but I don't think it has any actual science fiction elements. In 2020, Britain reduced the size of their armed forces a lot and that's why many of the former soldiers have had to look employment elsewhere, including criminal circles.
Sarah is a highly competent action heroine. She's proficient in firearms and unarmed combat and is in extremely good shape. She's also a quick learner and a good leader. She speaks six languages and is extremely beautiful. She's also a fitness model and men almost swoon when they see her. She's always eager to learn new things and when she realizes that she's made a mistake, she willingly admits it and learns better. As a policewoman she hates criminals and when she has to, she kills to defend herself and the people close to her. She's ambitious and passionate at her work and is always working to excel at it. She's also a mix-race character: her father is Indonesian and mother Spanish/English.
The book is written in present tense which heightens the tension, especially in combat scenes. It's also written in third person omniscient point of view which felt a little strange at first to me. In this POV, the narrator can access any character's thoughts and even give hints about what's going to happen in the future. It's not very common these days, so it was good to read something a bit different for a change. The vocabulary has a lot of military acronyms and British slang. Fortunately, there's a glossary at the end.
The books stars with the bad guys torturing a woman to death. One of the bad guys really likes torture so there a couple of more torture scenes. The fights scenes are furious, and a lot of people get killed in this book. I was a bit surprised at first that Sarah's colleagues execute their enemies after a fight, instead of getting them alive for questioning. But this book is really about war against drug dealers.
I really liked Sarah. She has a younger sister and older brother. I loved her relationship with them because very often action heroines are only children and even orphans. The other team members also grew on me quickly, as I love competent characters.
Some readers have said that the beginning is slow. It's true that the first five chapters concentrate on setting the characters, the conflict, and the setting. However, this also means that when the fight scenes arrive, they're furious and the stakes are high. I much more prefer that than reading a book where a fight scene (or any scene) is there just because a formula demanded it. When the fighting does start, the tension level doesn't really ease off until the end. The book has also a very strong romantic element.
While the focus on tactics and guns certainly gave the book realism, I was sometimes a bit frustrated with them because I'm not a military person at all and it felt a bit too much. I also thought that the author, and the characters, focused a bit too much on Sarah's looks. Otherwise, this was quite an enjoyable read with highly competent characters.