The third and final book in the fantasy Divine Cities trilogy. It's an excellent series and I strongly recommend starting with the first book, the City of Stairs.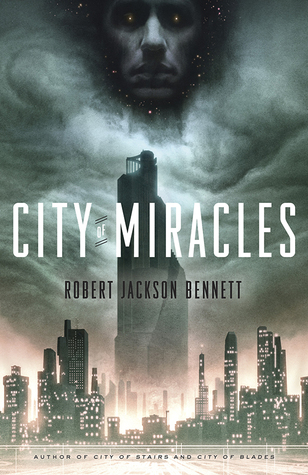 Publication year: 2017
Format: print
Publisher: Jo Flecther Books
Page count: 440
City of Miracles starts with one of the bad guys killing Shara Komayd, the former Prime Minister of Saypuri.
13 years have gone by since the end of the previous book, City of Blades. Sigrud has lost his daughter, and his best friend and leader Shara Komayed has sent him away, before he could be arrested and tried for multiple counts of murder. Sigrud has been waiting for Shara to call him back and into action. Instead, he hears that Shara has been assassinated. So, he throws away his job as a logger and sets out to get revenge.
But to do that, he needs information about what Shara was doing and who killed her. He also wants to protect Shara's adopted daughter Tatyana who has vanished. The more Sigrud finds out, the more he realizes that he doesn't know about Shara's final years. Shara has set herself against a powerful and ruthless enemy who has very far reaching goals.
This was a powerful and wonderful ending to a wonderful series. Bennett mixes espionage, mystery, and thriller with magic and divinities. He gives us a lot of new characters along with a couple of familiar ones. We get to see a bit more of Saypuri than in the previous books.
Sigrud has been a significant secondary character in both of the previous books but now we really get into his head and get to know what drives him and makes him unique. He's a tortured man without a doubt but he's also determined to do what must be done.
The story has a few twists I didn't see coming and the ending is just perfect. (And as I greedy reader I'm going to ask 'What will you write next?')