Collects issues 1-18 of the digital comics.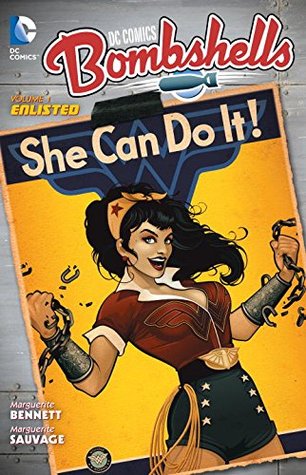 Writer: Marguerite Bennett
Artists: Marguerite Sauvage, Laura Braga, Stephen Mooney, Ted Naifeh, Garry Brown, Bilquis Evely, Mirka Andolfo, Ming Doyle, Sandy Jarrell, M. L. Sanapo, Marc Deering
This is an alternate history story where the world is still embroiled in WW II. Many men are off in the war and so women have taken up their roles. The majority of heroes (and villains) in this story are women, reimagined into 1940.
Gotham is defended from muggers by Batwoman who is billionaire Kate Kane who lives with her lover detective Maggie Sawyer. Then commander Amanda Waller recruits her for the war effort. The Batwoman goes undercover in Berlin.
Meanwhile, near Greek coast Steve Trevor is fighting Nazi warplanes. He sees a group of women attacking all planes and his fighter goes down. The Amazons take him prisoner but their Princess Diana is interested in the news Steve brings from the outside world: of a great war where millions of people are being killed. The Amazons aren't interested in the war and indeed their queen is going to execute Steve. But Diana together with her friend Princess Meru from Atlantis free Steve. They want to help fight the Nazis.
In Russia, Kara Starikov and Kortni Duginovna are part of the Russian female elite pilots, the Night Witches. However, on their first mission, Kara's plane is destroyed and she's forced to show her great powers. The Russians take her prisoner. In exchange for the lives of their parents, the girls agree to become figureheads for the Motherland: Supergirl and Stargirl.
In Berlin, Joker's Daughter and Zatanna are preparing to bring about something monstrous to help the Nazis.
This is a very interesting reimagining, with many, many female characters. Big Barda is part of Waller's organization. However, the story has lots of storylines, which makes it a bit fragmented. However, I'm sure all the storylines will join near the end. Personally, I would have liked to know the characters more and more about the world. Now we get quite short scenes with each character focusing heavily on the plot.
Zatanna is an interesting, conflicted character. She's the daughter of a Jew and a Romani. So, Joker's Daughter is essentially blackmailing her into working at the club and with the magic. Meanwhile, Diana, Mera, Kara, and the rest are very straightforward heroic people.
Despite having lots of artists, their styles actually seem pretty similar, so I didn't have a problem with the art.
This is loads of fun! The only section that didn't work for me was the Harley Quinn one, others I quite enjoyed, even if the art is rather cheesecakey.