A stand-alone sf/f book.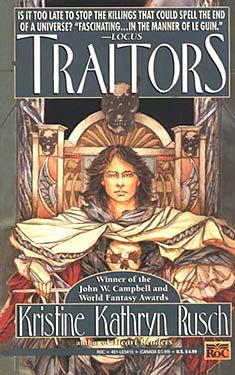 Publication year: 1993
Format: print
Publisher: ROC
Page count: 384
Traitors has an sf premise: the book is set is another planet which humans colonized centuries ago and the people know it. However, mostly it reads like fantasy. The countries in this setting are islands so you need to have either a ship or an air-born shuttle to go from one country to the next. All high tech is controlled by one nation, Vorgel, and while other nations can use them, the Vorgellians keep tight reins on the tech so nobody else can build anything high tech, anything from laser pistols to shuttles.
The Kingdom is a place where, at the surface anyway, art and artists are regarded highly. However, the Kingdom has a very cruel and rigid caste system. In it, young children are tested for their level of Talent (in any form of art, such as dance, poetry, or music and also in Magic). Those with A-level Talent are then expected to perform so that their performances bring money to the government. Those without A-level Talent are essentially used for scouting rich targets (in foreign countries) and robbing them. Also, a person can have only one Talent and only one A-level Talent in one family. Of course, the Kingdom don't admit that they steal to anyone outside. Golga is a neighboring country where all frivolous thing, such as fiction and other arts, are forbidden. Supposedly, the Golgans kill all Kingdom members they get their hands on.
Emilio Diante is an A-level Dance Talent. One day, he comes home and finds his family brutally murdered. He knows that the Queen has done it. So, he stows away on a ship, heading for somewhere else, anywhere else. He's rather become a slave than stay in the Kingdom. However, a mage aboard notices him and the only place where he can stay is Golga. Diante is sure that he will be killed but instead the ruler of Golga, the Golgoth, gives Diante one chance to prove himself and stay. Diante takes that chance. 15 years later, he's the head of detectives in the Golga capital and one of the ruler's most trusted advisors. Then, he finds a badly beaten and burned Kingdom woman near the port. He and his closest friend, a wine merchant, take the woman to heal in a resort where they can hopefully rebuild her broken body. On the island resort Diante meets and falls quickly in love with a stunningly beautiful woman. He suspects that she's from Kingdom but waves away his concerns. That turns out to be a mistake.
As usual with Rusch, I loved the setting. However, this is one of her earlier books and it shows a little.
The various nations we're given a glimpse of are fascinating. Apparently, the people who founded them, made them opposites of each other. For example, Golga was once part of the Kingdom but the future Golgans rebelled and when they founded their own country, they forbade anything resembling the Kingdom, namely the arts.
Diante is the only POV character so his opinions color everything. He's a very serious and duty-focused man. He's only loyal to the Golgoth who trusts Diante. But few others trust Diante. The wine merchant is his only friend and he's closed himself off from other people so much that he hasn't had a romantic relationship until he meets the woman at the resort. Also, when he gives someone his loyalty, he has very hard time letting go.
Sheba, the woman Diante falls for, remains a mystery. We don't see her reasons for her choices. The other major characters change through the story. The Golgoth is another very duty-bound man who will do anything for betterment of his country. He's also quite different from his reputation in the Kingdom. The wine merchant starts out like a plot device (urging Diante to do something he normally wouldn't do: take a vacation) but gets deeper during the story. The same thing happens to the wounded woman.
I rather enjoyed this book but it's not one of Rusch's best, even though it has some quite unusual twists which I quite enjoyed and the ending was also somewhat unusual (for fantasy).