The first in an epic fantasy trilogy. It won the Hugo award in 2016. The second book is nominated this year.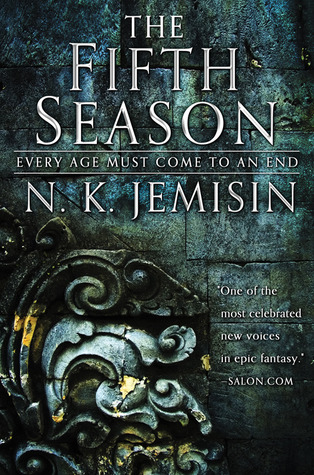 Publication year: 2015
Format: print
Page count: 449 + two appendixes and an excerpt from another book
Publisher: Orbit
Much like Jemisin's Dreamblood duology, I enjoyed this one a lot. It's got intricate world building, excellent pacing, some revelations I didn't see coming, and engaging characters. I've wanted to read this series but wanted to wait until it's complete. However, because of the Hugos I've plunged in and will be now eagerly waiting for the final book (for a year…). On the negative side, it's got a culture where people do terrible things to other people routinely, child abuse, and rather horrible stuff happening.
While this is indeed secondary world epic fantasy, it's not set in a Middle Age world. Instead, the Stillness (as the continent is called) has had many civilizations but most of them are dead now, because of the wrath of Father Earth, or volcanos and earthquakes. They devastate the land irregularly and people try to prepare. Those deadcivs have left artifacts around and also stonelore which will (hopefully) tell the survivors how to continue to survive. The cultures are therefore geared towards survival in ruthless ways. On the other hand, useful info can get lost.
The clearest fantasy elements are the orogenes who use orogeny, or magic (or genetic trait) which allows them to feel and manipulate heat and earth (or rather the energy related to them). Because of this, most of the ordinary people hate and fear them, thinking that they are responsible for earthquakes and volcanos. If an orogene can't control his or her powers, they can kill people or even destroy whole cities. But if they can control their powers, they can sooth away earthquakes.
The ordinary people kill them, even their own children who manifest this ability. But the Sanzed empire (the dominant nation on the continent) has a way to corral the orogenes: to train them and make them useful. But the Empire has ruled that the orogenes aren't fully human: therefore, the orogenes they can get their hands on are treated as slaves: trained from a young age to obey their Guardians unquestioningly and they don't even have a choice on if they have kids or with who. And always, always they need to control themselves.
The book has three POV characters, all female. The first person we encounter in Essun, who has just found her murdered son, who was three years old. She's an orogene but hasn't told anyone in her village: she realizes that the boy must have shown his orogeny powers and his father has beaten him to death. Understandably, she devastated. But when she finds out that her husband has left the small community with his and Essun's daughter, Essun is determined to find them.
The second person is young girl Damaya who has shown her powers in public a couple of weeks ago and her parents have locked her up. She believes that her parents are going to sell her. Instead, they are giving her to a Guardian who will take her to the place where the orogenes are trained. On the way there, the Guardian will teach her a lot about duty and why she must be controlled and be in control.
The third POV character is a young woman Syenite who is very close to being a fully trained Fulcrum orogene. She longs to rise higher in the hierarchy so that she can finally decide even a few things for herself. Instead, she's sent on a small errant to a coastal city of Allia. But the point of the trip is that she's making it with another orogene who is one of the most powerful ones alive currently. Even though nobody says it out loud, Syenite has to get a child with him. Problem is that she loathes him on first sight but they both have no choice but to obey. And not, it's not a romance story.
All of the characters are finding out a lot of new things, about the world and their place in it. We readers also get to explore alongside them. I was fascinated by all the characters and the world. Most of the book is in third person, except for Essun's chapters, they're in second person which felt strange at first, but fit the character. And it's written in present tense. Essun is the only character who clearly wants something and goes for it. To Damaya and Syenite, things happen and they must cope with them.
At first, I was a bit skeptical about how normal people could keep such powerful people in line, but in the end, I think the control was believable. After all, the kids are raise with duty and control pounded into their heads and the Guardians turned out not to be ordinary. There's a lot of ruthlessness in the book, people doing terrible things because they believe they must do it. All of the POV characters are hurt a lot, so this isn't a feel-good book by any means. It explores what people do to other people whom they don't believe are truly human.
The ending leaves everything wide open and raises more questions which will hopefully be answered in the next two books.
Oh yeah, the book has bisexual and gay characters.