The first book in a French historical fantasy series. Original title: Les lames du Cardinal. Finnish title: Kardinaalin miekat.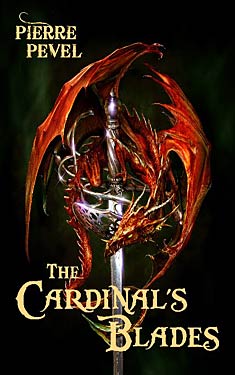 Publication year: 2007
Publication year in Finnish: 2010
Publisher in Finland: Gummer kustannus oy
Finnish translator: Taina Helkama
Page count: 383
The book is set in Paris in 1633 with Louis XIII and Cardinal Richelieu ruling the country, in their own ways. Paval has done meticulous research. Indeed, he sometimes interrupts the story to tell us details about Paris and the historical characters at the time. A couple of Dumas characters make cameos.
As a powerful man with many enemies, both personal and France's enemies, Richelieu employs swordsmen. Some of the best were known as the Cardinal's Blades but some five years ago the Cardinal had to disband them because of political reasons after a disaster at La Rochelle. Now, he has summoned them to serve him again.
Captain Étienne-Louis de la Fargue isn't happy to serve and Richelieu has to resort to some blackmail to get the elderly captain back, and soon la Fargue is gathering his group together again. The womanizing, hard-drinking Nicolas Marciac who is also a doctor. The elderly Spanish master swordsman Anibal Antonio Almadès de Carlio. Young Baroness Agnés de Vaudreuil who is headstrong and independent. And a couple of others. All of them respect and love the captain and follow him willingly, even though most have reservations about the Cardinal.
On the other side are the forces of the Black Claw, a secretive Spanish group of people descendent from dragons. They use magic and small pet dragons as well as manipulation and assassinations to infiltrate France. And perhaps the Cardinal who is ruthless when it comes to keeping France safe.
In this world, dragons are real and there are different kinds of dragons. The smallest ones some people keep them as pets and a few can be trained as couriers. Some dragons are larger than horses and willing to carry people. A few people have dragons as ancestors so they are "half bloods". They have lizardlike eyes and many people shun them. A few were described as lizard men. Apparently, the ancient, huge dragons were very intelligent and malevolent. Also, close contact with dragons can infect people with incurable disease.
And yet, all these dragons don't seem to have affected the flow of history much. Also, dragon couriers are apparently not trustworthy because important messages are still sent in horseback. Indeed, one of our heroes is carrying such a message and is followed and attacked. I would have thought that following a flying courier would have been much harder.
Pevel has lots of action with daring escapes, duels, and swordfights. He also describes the Paris of the time wonderfully: it has both mansions were the rich and powerful live, the secret courts where the beggars and criminals meet, and filth-ridden streets. The Finnish translation includes a map of Paris in 1633.
The pace of the story is quick with short chapters that sometimes end in cliffhangers. There are a lot of POV characters: in addition to all the blades, there's the Cardinal, two or three antagonists, and a surprising number of only once-seen characters. This made it sometimes a bit hard to remember who the characters were.
The characters are painted with broad strokes and are epic swordsmen who can handle a dozen enemies at once. In contrast, the plot has lots of twists and turns, keeping this reader guessing. There are also a couple of surprise revelations, one which I guessed beforehand and one which I didn't see coming at all.
I didn't like this as much as I wanted to but I might read the next in the series. Hopefully that one doesn't end in a cliffhanger because the rest haven't been translated to Finnish.