Part of the Secret Wars event. In this alternate X-Men universe, the X-Men lost the Inferno event.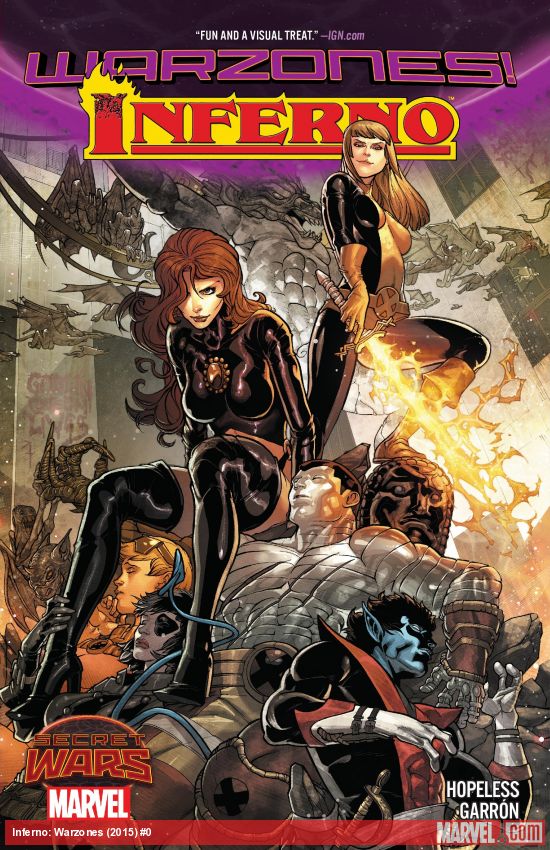 Writer: Dennis Hopeless
Artist: Javier Garrón
The story begins four years after the X-Men lost Inferno. Demon-infected Manhattan has been separated from the rest of the US with walls, force fields, and magical wards, and the X-Men guard the walls. Illyana has been imprisoned in the Empire State Building. Colossus wants to rescue her and has made a deal with Scott Summers (who is, by the way, this domain's baron!): one day a year Colossus and a team of X-Men try to free Illyana and the rest of the time Colossus is part of the regular X-Men team. But this time things go really wrong: Scott and Colossus are crippled and Illyana is revealed to be the Darkchild, ruler of Limbo and demon-Manhattan. And she chooses to stay with the Inferno demons.
The next year, when Colossus wants to lead a team to again attempt the rescue, Scott makes it clear this will be the last attempt. So, Colossus, his lover Domino, Nightcrawler, and Boom-Boom head out to rescue Illyana. Unfortunately, their team isn't a match for the forces which have been building in Manhattan. Colossus and Domino end up in the hands of the Goblin queen Madelyne Pryor and her consort Alex Summers while Illyana herself captures Nightcrawler and someone else captures almost fatally injured Boom Boom. However, Madelyne has an interesting offer to Colossus: if he fights by her side, he can rescue his sister and Madelyne will rule Inferno.
Inferno is actually not one of my favorite storylines because it was quite disjointed, jumping to different X-comics. (And of course Madelyne was right to hate Scott for abandoning her and their infant son and to hate Jean for, essentially, condoning it. However, Madelyne had no right to hurt innocent bystanders!) But this is exactly the kind of spin off I really like: alternate version of characters who are still heroes but different, different romances, difficult choices to make, and Scott in a wheelchair calling "To me my X-Men"! Not to mention what Illyana did to poor Kurt… I wouldn't want this story to become the status quo for X-Men but it's interestingly different from the usual status quo. Yeah, I really liked it.