The third book in the Keeper chronicles. This time with two talking cats.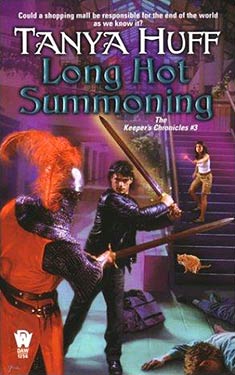 Publication year: 2003
Format: print
Page count: 415
Publisher: Daw
Diana Hanson is a Keeper, person with witch-like powers who guards the world from forces of evil. Today is her last day in high school and she notices a source of evil, an ugly bracelet. Soon enough, she's Summoned to her first work: Erlking's Emporium a gift shop in a Kingston mall. It seems that someone is changing the whole mall into an Otherside spot and so trying to take over the world. Otherside is a place where people's conscious and subconscious desires and fears take physical form. Diana realizes that she needs help from her older sister Claire. Together the sisters, and Diana's talking cat Sam, head into the Otherside to fight evil right at the source. This means that Claire's hunky boyfriend and her talking cat Austin stay at the guest house to entertain all comers, including a professor of archeology and his walking mummy.
This was a fun and funny book but not as good as the previous one. Most the elements I enjoyed in the previous books are here such as Austin's snarkiness, the pop culture references, and jokes. Austin and Dean are fun together, too.
However, I didn't really get the Australian jokes and at time the story is fractured to too many different places. Unfortunately, the book has lots of new characters whom we don't really get to know and so it's hard for me to really care about the budding romance.
If you enjoyed the previous books, I think you'll enjoy this one too. Unless you don't like arrogant teenaged Diana, of course.