A collection of science fiction and fantasy short stories about the people who don't fit in with the others around them, for one reason or another.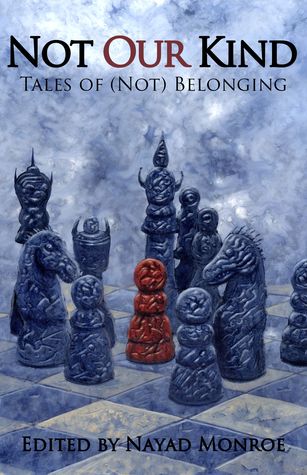 These 19 stories live up to the title. Many of them have a protagonist who doesn't belong or who is a stranger to the people around them. A few depict a clash of cultures (which I'm always interested in) and some have a feeling of otherness or strangeness which isn't so usual in SFF anymore. The strangeness is perhaps best seen in the first story.
Good Neighbors by Amanda C. Davis: Paul works for an IT company. But in a very different kind of world where it's very important to please certain people.
The Hanged Woman's Portion by Marissa Lingen: Aridana has been sentenced to death in Pyxis Sigma III, on an alien world and among aliens. Alien missionaries visit her in jail but their religions don't seem to work by the same logic as on Earth.
The Broken Silence of Fanghan by Jennifer Brozek: Kim Zhou has gotten a job as a caretaker of the town called Fanghan. Except that nobody lives there. Still, Kim is given set of instructions which he has to follow strictly.
The Repository of All Out Potential by Janet Harriett: Gaia has lived her whole life inside a starship. Unlike the other people onboard she's never put a foot on a planet and never seen a planet up close. The others treat her like an experiment which frustrates her.
FawnGirl14 by Sarah Hans: The main character was kidnapped forty years ago. Now she's back but fundamentally changed. For only four days passed for her.
For Outside are the Dogs by Andrew Penn Romine: Luisa, her brother, and her boyfriend try to survive in a post-Cataclysm world where the Templars have all the modern tech. But life is hard. When they come across a strange dog they realize it probably belongs to the Templars but they take it anyway, for selling it back might give them a chance at a better life.
The Victor by Michael Haynes: In this world, the victor sacrifices his life and the loser goes on to live the life of the victor. The victor's family isn't happy about it.
Umwelt by Gary Kloster: Gazi and Siska have been on the run from gods and war. Some years back they settled down and had kids. But now war has found them again.
On Love and Decay by Remy Nakamura: One day, the giant fungal city pushed upwards from soil and took over Disneyland and Orange County metro. Eight years later, the mushroom people still encounter prejudice in their everyday life. When Julian, a human, falls in love with Kombucha, a shroom woman, they know that not everyone will understand them.
All the Pretty Cages by Damien Angelica Walters: In this world, some humans are born with wings and are unable to speak. They're called avians and they're hunted and brought to schools where their wings and vocal cords are removed to make them normal, even though they can't blend into human society. The main character used to be an avian. Now she hunts them.
Tahanan by Reinhardt Suarex and Wes Alexander: Mahal's grandfather is behaving strangely, ordering her to go away while he says goodbye to various things. Mahal decides to spy on him and learns thing about her own country and past which adults haven't told her.
Spinwebs by Lucy A. Snyder: In this world, some people live with spiderlike people called spinwebs. However, some humans loath the spinwebs and the humans who associate with them. Young Adria learns this first hand, when Mama Silklegs dies and leaves her eggs to Adria's care.
Mermaid's Kiss by Alex Bledsoe: Jimmy Howley is the chief of police in Parsons. He's rather disappointed in his life and has become something of a drunk. One night, he sees a girl in the Tennessee River. She kisses him and he realizes that she has a fish tail instead of legs. But she slips back into water and he is left wondering if it was a drunken dream. Until a year later when the mermaid's sister comes to him.
Say Rice by Ekaterina G. Sedia: Margie is a biology student but she's interning with a law firm. Her old but very elegant boss, Stella, makes Margie feel like a clumsy bum. But there's a reason why Margie was hired to the firm.
Hero Town by Tyler Hayes: Jace is from the Office of Superhuman Resources. He needs to inoculate teenaged powered people. An epidemic is plaguing the unpowered people and evidence suggests that the powered people are the source. The heroes don't take this suggestion kindly, to say the least, because mere bugs shouldn't work on real supers.
Euryale Rising by Erika Holt: Unexpected news reaches hell: Man's dominion is over. Various devils, imps, and daemons stream out of the inferno and to Earth. Euryale is one of them, a creature whose whole family was killed by humans because their blood is said to heal every wound. She takes her bow with her and wants revenge.
The Valiant Heart by Juliette Wade: Grobal Pyaras is a nobleman. In his country, the nobles and the warriors (Arissen) don't mix. But Pyaras has fallen in love with an Arissen to the chagrin of his cousin, the king, who will do everything in his power to make life difficult for the couple. In this culture the warriors prove the valiance in their hearts with a duel.
(120 Degrees) of Know the Ledge by Maurice Broaddus: In this world, America is a colony of Albion. In America, blacks are unhappy with the racism and have formed their Lost Nation. Carlton X is one of them and when their leader, Father Justice, is assassinated, Carlton X raises in the hierarchy.
Cankerous by Tim Waggoner: Doozer is a homeless man in his fifties living in a tent city. One day, he notices something strange about the mother and daughter living in the next tent.
I liked all of these stories but my favorites where "The Valiant Heart", "The Hanged Woman's Portion", "Euryale Rising", "The Victor", and "The Repository of All Out Potential". Many of the stories have more than a touch of sadness in them but usually with some underlying hope.