First in a dystopian time travel series.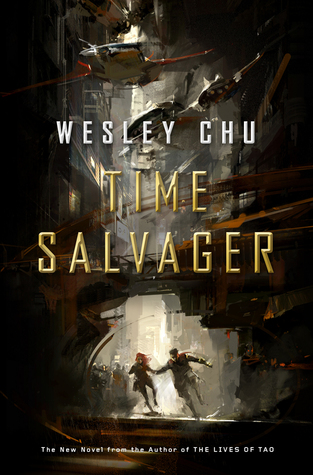 Publication year: 2015
Format: Audio
Running time: 15 hours and 37 minutes
Publisher: Audible
Narrator: Kevin T. Collins
James Griffin-Mars comes from the far future where the Earth is a horrible place to live, suffering from a plague that affects not only humans but plants and animals, as well. Those who can afford it, have moved off-planet. But James is one of the elite who doesn't have to worry about that. He's a chronman who travels to the past in order to salvage technology, information, and other resources needed in the present to ChronoCom, the corporation which owns the time traveling technology. James is forbidden to bring anyone back from the past and so he's used to thinking about the people he inevitably meets, and can't help, as long dead. There are other rules, too, but that's the most important one. The Chronmen suffer from lag-sickness if they jump too often but ChronoCom takes care of that by scheduling the jumps far enough apart. Also, jumping to the past can be directly dangerous, too.
James and his handler Smit have gotten a gig which should bring them enough riches that they can retire. But on James' final mission he meets Elise Kim and is fatally smitten. Elise is going to die so James brings her back with him. After that, they're fugitives. Both ChronoCom and Volta, the very powerful corporation behind it, are going to hunt them down.
There are several POV characters. In addition to James and Elise, there's handler Smit and an antagonist Levin Javier Oberon who has a personal grudge against James and also works for the Evil corporation.
James isn't a nice protagonist; he's cynical and seen far too much death and destruction to be anything else. He's had to bury any instinct of wanting to help other people deep. His past also troubles him; he had a mother and a younger sister who died when James was young. He's forbidden to help them with time travel. Elise is pretty much his opposite. She's a scientist who was working in the 21st century to fix the pollution in the seas. She was working for a non-profit organization so the world she's yanked into is pretty horrible to her. Also, everyone she's known are dead. She's not sure if she can trust James.
Compared to "Just One Damned Thing After Another", "Time Salvager" is much grimmer and less fun. But the world-building holds together better. Most of the cast are also… well, assholes. The book does have a lot of clichés: the most groan worthy might be the evil megacorporation whose employees are also evil… to everyone all the time or James' decision to save Elise at the expense of his career and possibly life… after literally knowing her for just one day. After that scene I seriously considered just dropping it. I won't regret finishing it but I won't continue with the series.
I was also not a fan of the narrator. It's hard to say what it was specifically. I just had hard time concentrating on the book.