Collects Ms. Marvel 1-5.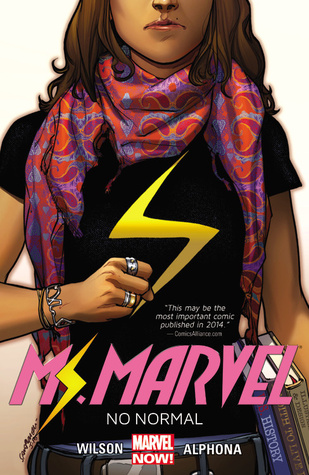 Writer: G. Willow Wilson
Artist: Adrian Alphona
Kamala Khan was born in New Jersey 16 years ago to an immigrant Pakistani family. Her parents are very strict with her while her brother is very religious. Her best friends include another Pakistani girl Nakia and a classmate Bruno who works at a local grocery store. He appears to be secretly in love with her. She a fan of the Avengers, especially Captain Marvel, and plays online a lot. However, Kamala thinks that her life is very boring, if not outright terrible. She's frustrated with how little her parents seem to trust her and just one to be a normal girl.
Once again her parents forbid her to go to party but this time she sneaks out. At the party, she's made fun of and she leaves, feeling really down. However, a strange mist envelops New York and Kamala passes out inside the mist. She wakes up to a hallucination of Captain Marvel, Captain America, and Iron Man. When the mist goes away she looks just like Carol Danvers in her Ms. Marvel costume. She also has shape-changing powers which she uses to save a classmate from drowning.
The story focuses on her as a person and a teenager rather than a superhero. She learns how to control her powers and they get her into trouble at first, both at home and in school. She lives with her parents but decides not to tell them about her powers, which further complicates her life. The story has lots of comedy and can be read without much previous knowledge about Marvel characters.
Kamala is a great character. She's ernest and genuinely wants to help people and have fun with her powers. Unlike most superhero comics, Ms. Marvel isn't centered on fights.